God Jul Önskar Lisa Miskovsky och Kalle Moraeus - EP - AUS
Updated: 26th of Feb 2017
Click on the pictures for larger versions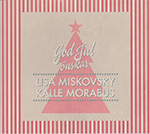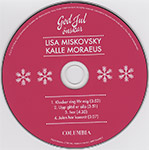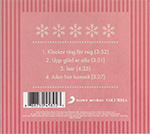 Releasedate:
2014
Manufactured in:
AUS
Mediatype:
CD EP in digipack
Availability:
2: easy to find
Catalogue number:
LC00162
Barcode:
8 8875045822 3
Issue:
Normal Issue
Matrix (CD):
A0102411409-0101 15
LBR SID code (CD):
IFPI L555
Mould SID code (CD):
IFPI 94K6
Label:
Columbia/Sony
Producer:
Ola Gustavsson
Mix:
-
Executive producer:
-
CD Master:
-
Studio:
-
Sleeve:
Photo:
-
TrackList:
1: Klockor Ring För Mej 3:52
2: Upp Gläd Er Alla 3:51
3: Isar 4:35
4: Julen Har Kommit 3:27
Other Info:
This is a Christmas song EP released in December 2014 with Lisa Miskovsky and Kalle Moraeus.
4-tracks performed by Lisa and Kalle. I also have one sealed copy of this EP.