"Botten Blir Topp"
Updated: 15th of Oct 2010
Click on the pictures for larger versions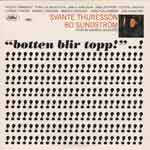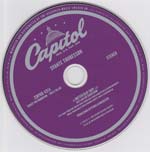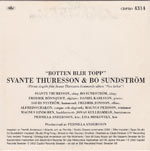 Releasedate:
2002
Manufactured in:
Sweden
Mediatype:
CD single in cardboard sleeve
Availability:
4: Very hard to find
Catalogue number:
CDPRO 4314
Barcode:
-
Issue:
Promotional Issue
Matrix:
CDPRO 4314 DCM 12090906
LBR SID code:
IFPI L051
Mould SID code:
IFPI 17C1
Label:
Capitol
Producer:
Pernilla Andersson
Mix:
Alar Suurna
Executive producer:
-
CD Master:
Claes Persson
Studio:
Attlantis/Gnesta
Sleeve:
Kjell Andersson & Pär Wickholm
Photo:
Anders Thessing
TrackList:
1: Botten Blir Top : 3:23
Other Info:
Lisa Miskovsky is performing the choarl on this song performed by Svante Thuresson and Bo Sundström.
This is the album version of the song, and it was never released as a cd single. It only exist as a
single in this promo version.