What If (new version) Promo - 1-Track CDS - SWE v1
Updated: 19th of Sep 2013
Click on the pictures for larger versions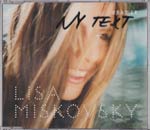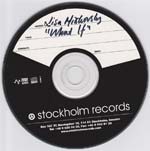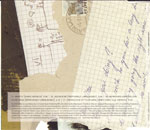 Releasedate:
10th-Sep-2001
Manufactured in:
Sweden
Mediatype:
CD single in slimcase
Availability:
6: Super rare
Catalogue number:
-
Barcode:
-
Issue:
Promotional Issue
Matrix:
-
LBR SID code:
-
Mould SID code:
-
Label:
Stockholm Records
Producer:
Malcom Pardon & Fredrik Rinman
Mix:
DeadMono & Lisa
Executive producer:
-
CD Master:
Björn Engelmann
Studio:
Monoton Studios
Sleeve:
Lars Sundh & Ida Höglund
Photo:
Irmelie Krekin
TrackList:
1: What If (New Version) : 3:34
Other Info:
The 2nd single from Lisas debute album. This is a strange one. It's the slimcase and artwork from
the original 1st release of the 3-track single but with the text "Ny text" (new text) written on the slimcase.
Inside you find a Stockholm Records CD-R with the handwritten label "What If". This is a Promo for the
"new version" of the song that was sent out in a hurry to radiostations after 9/11. I guess the record
company re-used some cd cases when they had to change the lyrics and wanted to send out the new version fast...
And I also guess that they made a large bonfire with the old CDs that was in these slimcases from the beginning.
The words "the plane" is changed to "my life" in the new lyrics.
I added "v1" to this one, since I later found a copy of the same CD but in a cardboard case instead.