Still Alive - 6 Track CDS - Promo Release With Sticker - US
Updated: 27th of Mar 2011
Click on the pictures for larger versions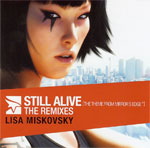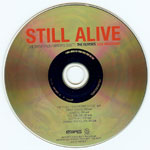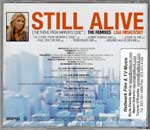 Releasedate:
2008
Manufactured in:
US
Mediatype:
CD single in standard jewelcase
Availability:
3: Hard to find
Catalogue number:
0 6700 32278 2 7, LC 11269
Barcode:
-
Issue:
Promotional Issue
Matrix:
067003227827 + + HR67301
LBR SID code:
IFPI L028
Mould SID code:
IFPI 1035
Label:
EARS/Nettwerk
Producer:
Yacoub/Birgisson/Miskovsky
Mix:
-
Executive producer:
Walterstad/Schnur/Pettus
CD Master:
-
Studio:
-
Sleeve:
Kim Kinakin
Photo:
Mattias Edwall
TrackList:
1: Still Alive (The Theme From Mirror's Edge) : 4:17
2: Still Alive (Benny Benassi Mix) : 8:24
3: Still Alive (Junkie XL Mix) : 4:37
4: Still Alive (Paul Van Dyk Mix) : 9:36
5: Still Alive (Teddybears Mix) : 4:37
6: Still Alive (Armand Van Helden Mix) : 5:26
Other Info:
The song performed by Lisa for the game "Mirror's Edge". Lisa also wrote the lyrics for this song, mixed
by this planet leading DJ's. This is a 6-track US promotional release with different mixes than on the
originaly released single. This copy of the single also has a promotional sticker on the back.