Lady Stardust - 5-Track CDS - Promotional Release - UK
Updated: 6th of Sep 2010
Click on the pictures for larger versions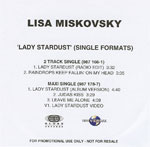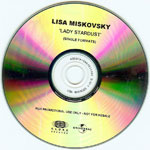 Releasedate:
2005
Manufactured in:
UK
Mediatype:
CD single in paper sleeve
Availability:
6: Super rare
Catalogue number:
-
Barcode:
-
Issue:
Promotional Issue
Matrix:
S8204B7-CR080G00 IFPI L585
LBR SID code:
IFPI L585
Mould SID code:
-
Label:
Globe, Universal
Producer:
Joakim Berg & Simon Nordberg
Mix:
Simon Nordberg
Executive producer:
-
CD Master:
Björn Engelmann
Studio:
Toytown/PAMA/DHS/IRAN
Sleeve:
-
Photo:
-
TrackList:
1: Lady Stardust (Radio Edit) 3:32
2: Raindrops Keep Fallin' On My Head 3:35
3: Lady Stardust (Album Version) 4:40
4: Judas Kiss 3:29
5: Leave Me Alone 4:08
Bonus:
Video: Lady Stardust
Other Info:
The 1st single from the album "Falling Water". This is a promotional release with all
of the songs from the two different versions of the singles released in the UK. Also included
is the video of the song Lady Stardust.