Lady Stardust - 2-Track CDS - With Promotional Sticker - UK
Updated: 6th of Sep 2010
Click on the pictures for larger versions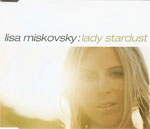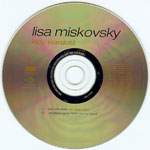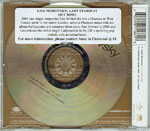 Releasedate:
06-June-2005
Manufactured in:
UK
Mediatype:
CD single in slimcase
Availability:
3: Hard to find
Catalogue number:
9871661
Barcode:
6 0249871661 8
Issue:
Normal Issue
Matrix:
9871661 01
LBR SID code:
IFPI L136
Mould SID code:
IFPI 0470
Label:
Stockholm Records/Universal/Globe
Producer:
Joakim Berg & Simon Nordberg
Mix:
Simon Nordberg
Executive producer:
-
CD Master:
Björn Engelmann
Studio:
Toytown/PAMA/DHS/IRAN
Sleeve:
-
Photo:
-
TrackList:
1: Lady Stardust (UK Radio Edit) : 3:35
2: Raindrops Keep Fallin' On My Head : 4:13
Other Info:
The 1st single from the album "Falling Water". This is a UK release with a different version of the
song than on the original German single. It has also another 2nd track than on the other released singles
of "Lady Stardust". This copy of the single has a promotional sticker on the back of the slimcase.