Pärlor Av Plast - 1-Track CDS Promotional Release - GER
Updated: 2nd of Jun 2012
Click on the pictures for larger versions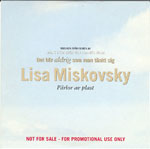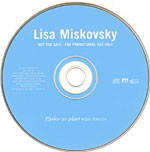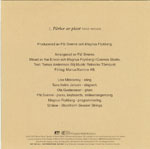 Releasedate:
2000
Manufactured in:
Germany
Mediatype:
CD single in cardboard sleeve
Availability:
6: Super rare
Catalogue number:
PRO1893/WMSPROM223 LC 4281
Barcode:
-
Issue:
Promotional Issue
Matrix:
PR01892
LBR SID code:
IFPI L012
Mould SID code:
IFPI 0581
Label:
Warner
Producer:
Magnus Frykberg & Pål Svenre
Mix:
Magnus Frykberg & Kai Erixon
Executive producer:
-
CD Master:
-
Studio:
Cosmos Studio
Sleeve:
-
Photo:
-
Text:
Tomas Andersson
Music:
Rebecka Törnqvist
TrackList:
1: Pärlor Av Plast : 3:11 (Radio Version)
Other Info:
You can say that this is the first "solo" record with Lisa Miskovsky. This is a promo single with a track from the Swedish
movie called "Det Blir Aldrig Som Man Tänkt Sig". The song is also on the soundtrack album, but in an "album version".
The album isn't that easy to find anymore but easier to find than this promo single. This song was never released as an ordinary
single and does only exist in this promotional version.